2013 AOPA Outstanding Flight School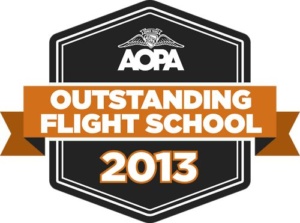 September 25, 2013 – Riverside Flight Academy, Riverside Municipal Airport, Riverside, Calif.
A
AOPA has selected 12 top flight training professionals and 11 flight schools as finalists in its annual Flight Training Awards. A top winner in each category will be named in October at AOPA Aviation Summit 2013 in Fort Worth, Texas.
The 2013 awards are drawn from 3,375 respondents who voluntarily reviewed their flight training experience through an AOPA online poll. The process yielded an evaluation of 508 different flight schools and 956 individual flight instructors.
Based on the poll results, AOPA will name a best flight school and best flight instructor from the finalists listed below. The individual winners will be announced at the AOPA Flight Training Summit in Fort Worth on Oct. 9—just a day before the launch of AOPA Aviation Summit at the same location. All finalists will be recognized as an "Outstanding Flight School" or "Outstanding Flight Instructor" and be presented with a plaque at the Oct. 9 announcement.
"Enormous congratulations are due to all the finalists," said Shannon Yeager, vice president of AOPA's Center to Advance the Pilot Community. "We created these awards to highlight the best the flight training industry has to offer, and it was clear from the customer reviews that every one of these schools and instructors are operating at an outstanding level of quality and service."
To select the award winners, AOPA invited those who have taken flight training within the last 24 months to complete the Flight Training Excellence Poll. Each participant could nominate no more than one flight school and one flight instructor.
The online poll was conducted from April 10 to August 9, using a process that contains several safeguards to ensure fair competition. It consisted of 39 survey questions designed to measure the overall performance of a flight school or flight instructor through the eyes of their customers. The results were then scored and averaged. Four questions that required free response answers were scored by AOPA employee-panelists who were unaware of the identity of the school or instructor being judged.